If we talk about Bali, of course we will also talk about the phenomenal Kecak Dance.
This dance is very unique. Some people will sit cross-legged in a circle and surround the dancers in the middle, extending their arms up.
For tourists who have been to Bali, the Kecak Dance is certainly familiar.
However, how did this Kecak begin and what is the meaning of the dance?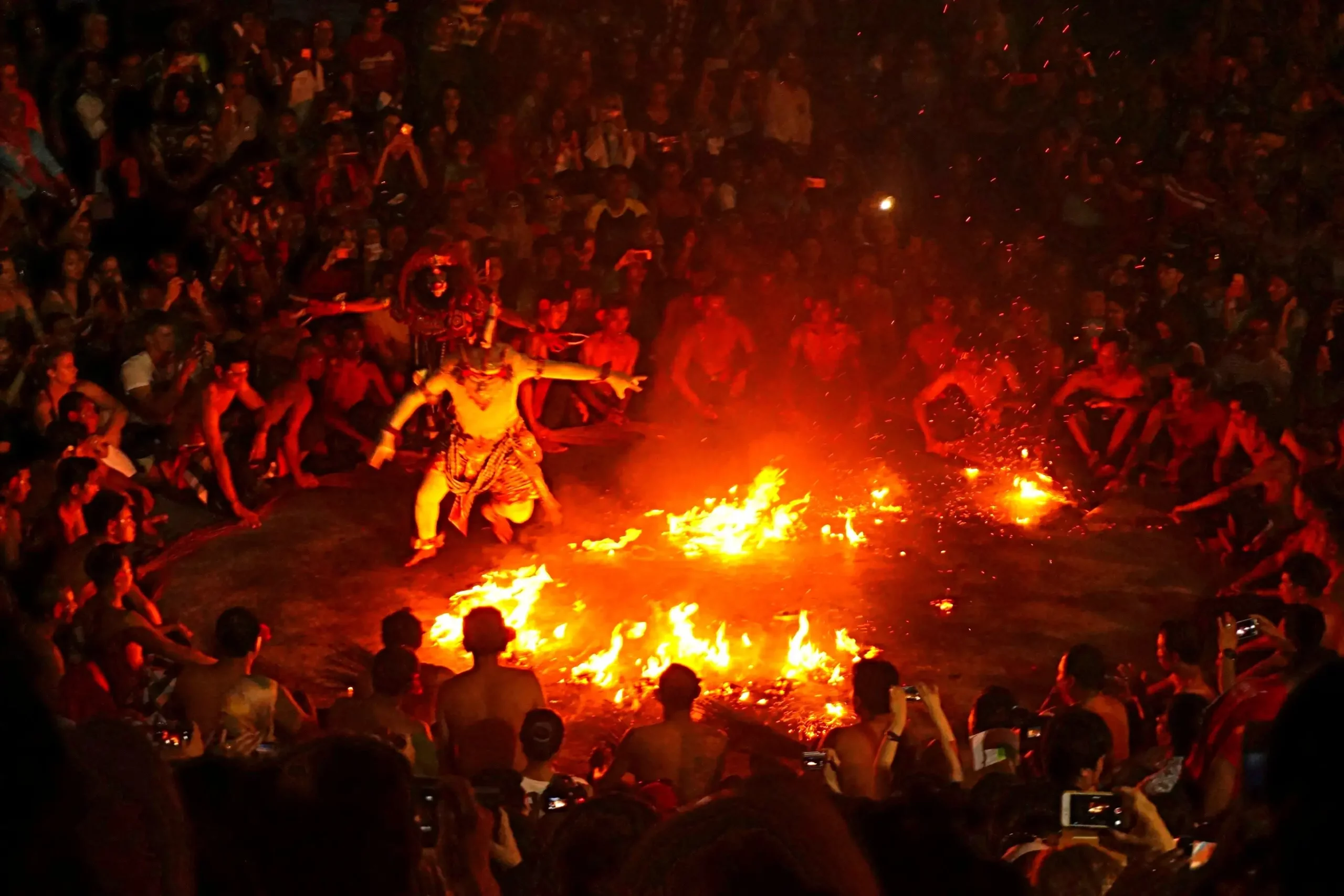 Interesting Facts
The Kecak Dance is very suitable to be an exciting spectacle when you are visiting Bali.
Without watching the Kecak Dance, it seems that your vacation will be less memorable.
Kecak is a traditional dance movement that is only owned by Bali.
This dance will usually be performed by many male dancers, more than a dozen in number.
The male dancers will then be shirtless and only wear a Balinese-style sarong.
Then the dancers will sit cross-legged in a circle and surround a torch made of bamboo with a burning fire.
At the same time there will be another male dancer waddling in their midst.
They will also make sounds simultaneously and simultaneously while moving both hands of each of them up.
Because of this unparalleled uniqueness, Kecak is one of the most iconic works of art.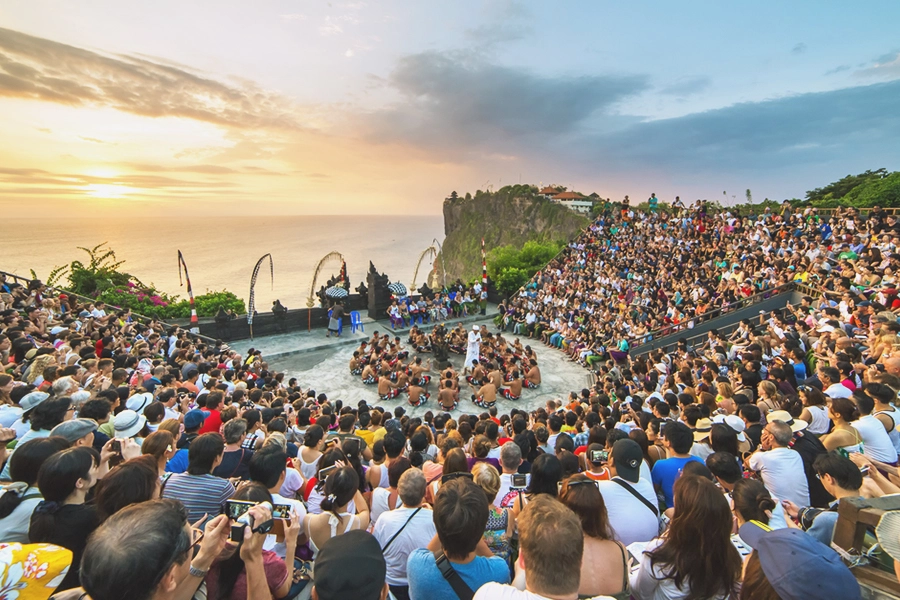 12 Amazing Bali Instagram Spots – Instagrammable Places in Bali
History
Kecak has been around since 1930. This dance was created by a Balinese artist named Wayan Limbak.
Artist Wayan Limbak is not alone in creating this dance. He was assisted by his colleague named Walter Spies who is also an artist.
Walter Spies is also a legendary painter who came from Germany.
According to the story written by Wayan Limbak, the Kecak was created by him because it was inspired by the Sanghyang Dance.
Sanghyang dance is a mystical dance that is used to ward off evil spirits.
Wayan Limbak modified the Sanghyang Dance, then created the Kecak which is now getting a lot of attention and has been famous throughout the world.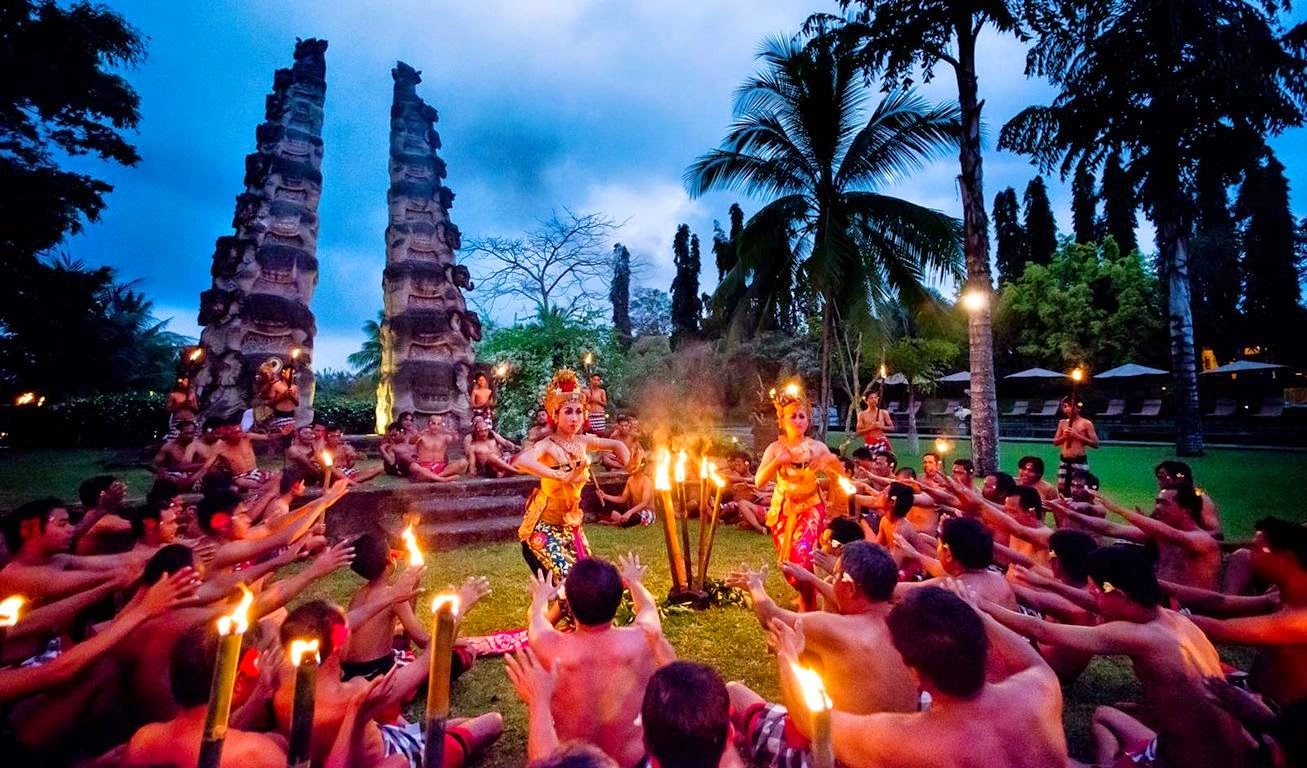 Story
Actually, Kecak Dance has a fairly deep meaning, especially for Hindus.
In addition to displaying beautiful dance movements, Kecak is also full of moral and religious messages.
Kecak has a storyline taken from the life history of Ramayana, a hero in Hindu stories.
The story includes about Rama and historical stories from the Ayodya Kingdom.
The storyline begins when Prince Rama along with his wife Shinta (Sita) and his older brother, Lakshmana, are walking in the monkey forest.
In the forest, Ravana kidnaps Sita. Ravana took and detained Sita in his palace.
Then Prince Rama came and fought against Rahman to be able to save his wife.
That way, this Ramayana heroic story has a moral message that one must have strategy, courage and a sense of loyalty to one's partner.
7 Bali Best Places to Visit – Epic Tourist Spots to Photograph in Bali
Music
Unlike the dances that exist like other dances in other places, the Kecak Dance is purely performed without the help of musical instruments.
Throughout the show, you will be amazed as the dancers accompany the dance with their own voices.
Kecak dance is very exciting and make sure that you don't miss this event when you are in Bali.
The thing that makes the Kecak the most unforgettable dance is when about 50 to 70 male dancers make a "cak… cak… cak…" sound.
Remember, throughout the show you will only hear the sound of the dancer's mouth, not the musical instrument.
8 Stunning Bali Tourist Spots That Are Suitable For Hanging Out
No Limits
The Kecak dance is performed without a limit on the number of dancers. That is, this dance can be performed with thousands of dancers.
In addition, the time for the Kecak performance usually starts at 18.00 local time or when the sun goes down.
The Kecak broke the MURI (Indonesian Record Museum) record with 5,000 dancers on September 26, 2006 in Tanah Lot, Tabanan Regency.
Place to Watch
Can't wait to watch the Kecak? Kecak is held in several places in Bali. It's in Uluwatu and Tanah Lot Temples.
After you know about the meaning and history of the Balinese Kecak, you will definitely want to witness it firsthand.
Bring your family or partner to watch this unique show together.