Here are 8 Most Stunning Bali Tourist Spots that will spoil your eyes and you should know that if you are going to travel later, visit these beautiful places.
If in the near future you want to travel to the island of Bali, then this article is quite right for you. You need to know that the island of Bali is a tourism paradise.
Lots of travelers from all over the world make this place the main destination of their travel plans.
Bali is quite famous everywhere. Its natural beauty is a byword for travelers who have visited here.
So beautiful, a lot of tourists from various countries who return to this place.
Not only that, there are even tourists from abroad who instead choose to stay on this island forever.
Top 10 Tourist Attractions in Bali with Luxurious Views from 10 Five Stars Hotels and Villas
Most Stunning Bali Tourist Spots
If you are in Bali while reading this, then prepare your camera and prepare your best photos in this place.
However, if you are still planning, it never hurts to find out in advance what places are very interesting to visit while hanging out in Bali.
Here are some of the most stunning hangout spots in Bali.
In this place you can have fun with friends, family or even with your beloved lover.
We have prepared a review for you travel lovers.
Some of our team even mentioned that these places are the coolest spots for photography.
Do not let you leave your camera when you come here because later you will feel like you are losing yourself.
12 Amazing Bali Instagram Spots – Instagrammable Places in Bali
Place to Visit in Bali
Produce as many best photos as possible to beautify your social media or Instagram account timeline.
Sea Vu Play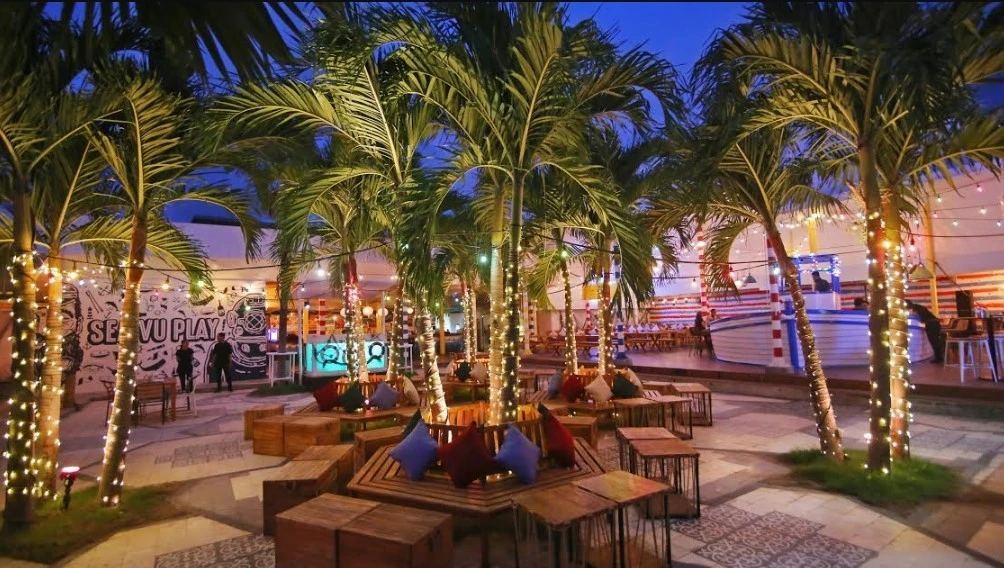 The first hangout place in Bali on this list is Sea Vu Play. This place is in the Seminyak area.
In addition to being a fun place to enjoy a variety of culinary offerings and have fun, in this place there are also lots of cool spots to make memories in the form of photos.
If you are with your loved one, then this place is perfect for adding a romantic impression.
In terms of the food menu, this place provides snacks, seafood to pizza that you can eat together.
No need to be confused about choosing the food menu because we make sure that all the dishes provided here are definitely very delicious in taste.
Get the best moment in this place by visiting it at night.
Because, at night this place becomes more beautiful with many lights.
Oh yes, Sea Vu Play is precisely on Jalan Petitenget, Seminyak, Bali.
KYND Community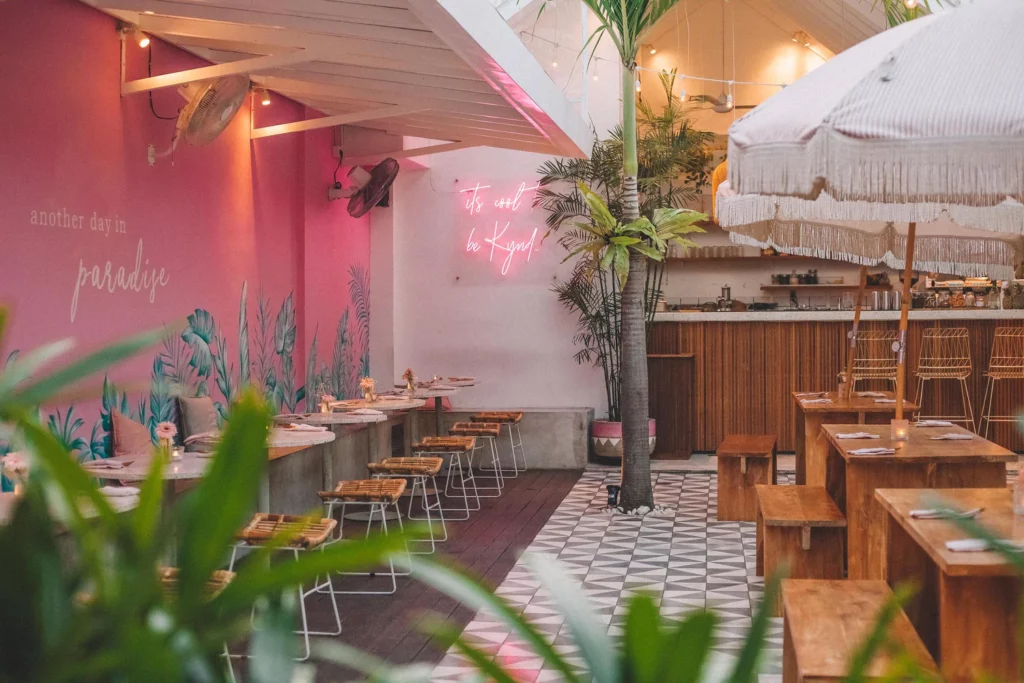 The next cool place to hang out in Bali is the KYND Community. The location is on Jalan Raya Petitenget.
This place is pink in color which makes it the cutest and most romantic hangout.
In addition to being unique and cool, KYND Community also provides many choices of healthy food menus made from vegetables.
For consideration, this place is a favorite of vegetarians.
With a combination of artistic designs wrapped in pink accents, coupled with the taste of delicious food, this place has become very popular.
All processed foods, especially for vegetarians, are specially processed from compounding to serving.
The presentation of the food is also quite unique and gives a beautiful impression.
What are you waiting for? If you are interested, just come to KYND Community.
Also prepare your camera because here you will definitely be busy taking pictures.
7 Bali Best Places to Visit – Epic Tourist Spots to Photograph in Bali
The Slow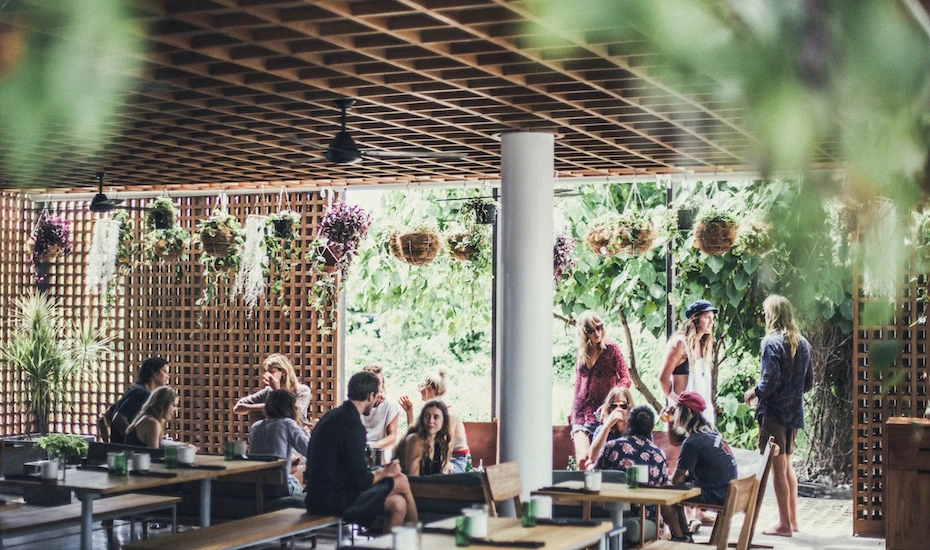 At first glance, The Slow looks like just a place to stay.
But make no mistake, The Slow actually also has bar and cafe with quite elegant designs and very suitable as a hangout place.
This place is located on Jalan Pantai Batu Bolong. The beauty of the decoration makes this place quite perfect as a photo hunting spot.
The decorations in this place are almost all made of wood. This further adds an elegant impression to serve as a background for your photos.
The food and drinks served here are quite diverse and all delicious. This special place is worth your visit.
5 Bali Kecak Dance Facts – Interesting Unique Show That You Should Know
Kebun Bistro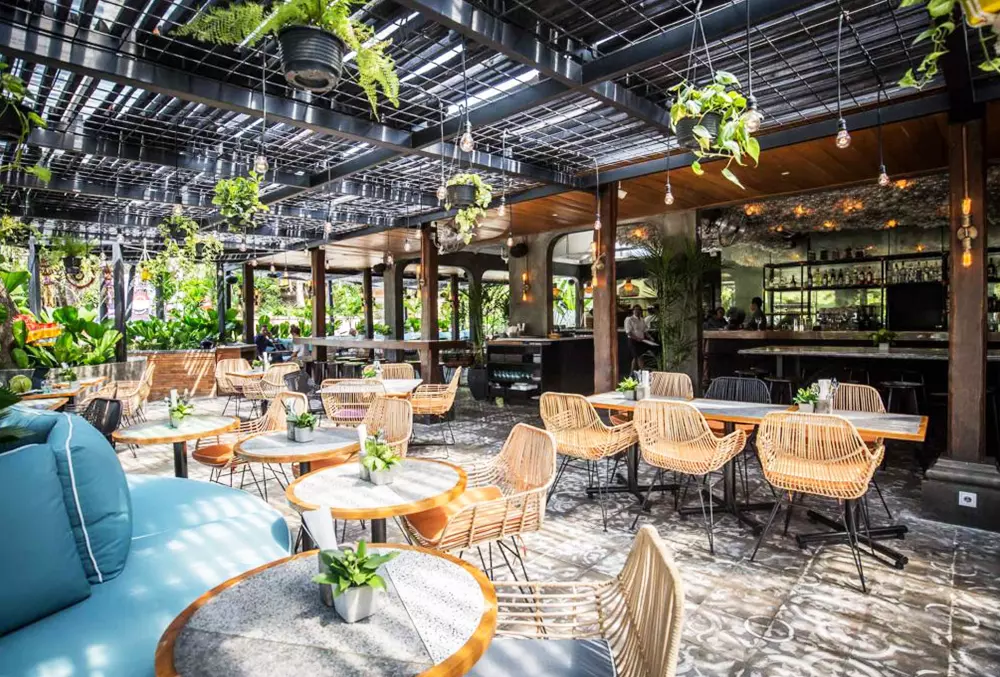 Almost all hangout places in Bali have their own creativity that aims to pamper the visitors.
One of them is Kebun Bistro. This place is more towards classic creativity than modernization.
Kebun Bistro is located at Jalan Hanoman No. 44, Ubud, Bali. The design of the place adopts a classy European-style design.
In terms of architecture, building decorations and furniture in it make visitors feel like they are on the European continent.
Besides being one of the most comfortable hangout places, Kebun Bistro also provides quite delicious culinary offerings.
The service of the cafe waiters who are very friendly and an attractive location to be used as a photo spor make this place a very right choice.
None Kitchen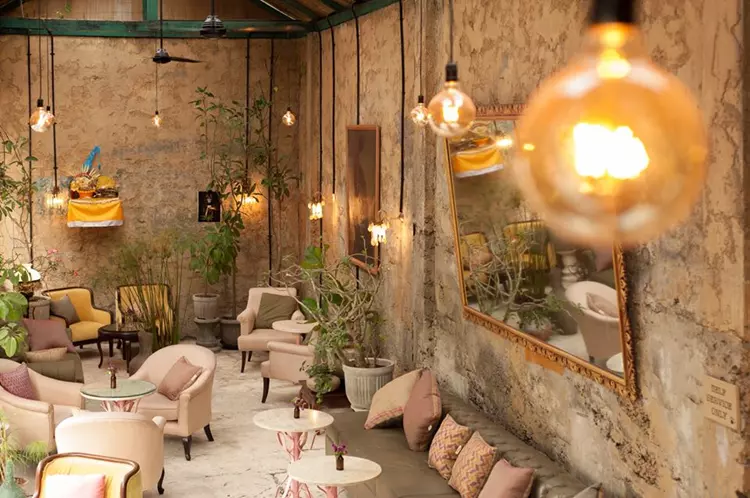 The next most stunning hangout place in Bali on this list is None Kitchen.
This place is at Jalan Nakula No. 77, Legian area, Kuta, Bali.
Please note that Legian is an area that is known as a party place.
So for first-time visitors to the Legian area, it is a little difficult to find a cafe.
Even so, don't worry. Don't hesitate to ask the locals who are known to be very friendly.
Ask the location of None Kitchen, they will be happy to give you directions.
None Kitchen is a cozy hangout place with a modern-looking cafe decor.
While enjoying a meal in this place, visitors can see the outdoor scenery that looks beautiful and soothing.
You can get photos with natural lighting in this place during the day.
The reason is, during the day this place is penetrated by sunlight.
Take advantage of that light to create even more dramatic photographic moments.
Pretty interesting isn't it? Apart from unique decorations, delicious food, this place is the best place to hang out with friends, family or when with loved ones.
Lazy Cats Cafe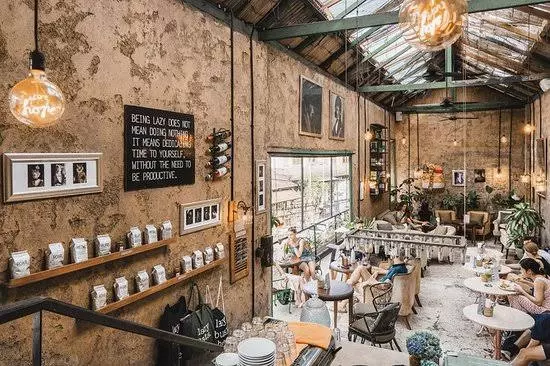 Bali is indeed a place for creative people. Not only smart to make unique handicrafts, even hangouts are made with extreme creative designs.
Lazy Cats Cafe is one of the cafes in Bali that is truly designed by its owner in order to provide comfort and beauty of the photos to its visitors.
This hangout in addition to serving delicious and delicious food and drinks, also provides creative background design for selfies.
Visitors will be spoiled with various decorations that reflect freedom when entering it.
Coupled with retro-style choice furniture that makes this place so perfect.
This place is located on Jalan Raya Ubud. And you will be very loss if you come to this place alone.
The reason is, this is a hangout place that is deliberately designed for you to enjoy with friends, relatives or loved ones.
Parachute Bali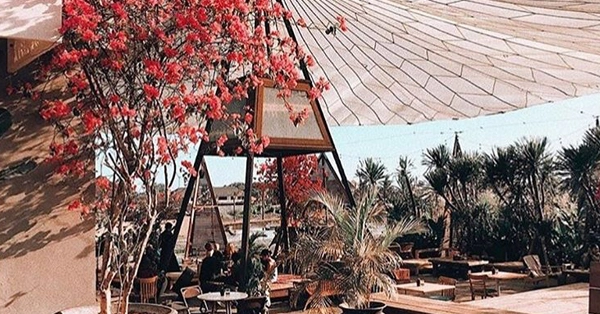 The most stunning hangout in this list is Parachute Bali. The location is right on Jalan Subak Sari 13, Number 8-4, Canggu, Bali
The uniqueness offered by this place is very much different from other hangouts in Bali.
The decoration of this place resembles a parachute, which gives shade. Then according to the name he has.
Not only comfortable as a hangout, Parachute Bali is also very interesting as a photography spot with a large parachute as its background.
Make your relationship with your partner more romantic while enjoying dinner in this exotic place.
Da Maria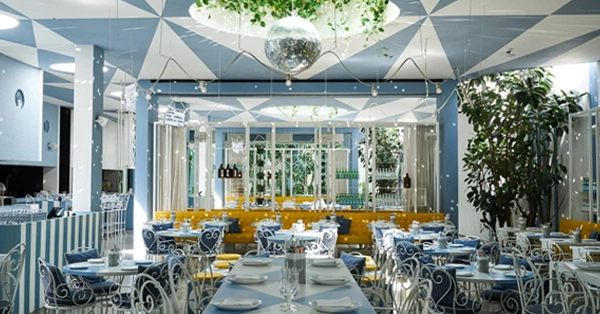 The last stunning hangout in our list this time is Da Maria. The location is on Jalan Petitenget Number 170, Seminyak, Bali.
This place provides a cool background for photography. You can take fun here while enjoying the typical Italian food and drinks.
In terms of design, this hangout named Da Maria is quite interesting, the mixture of white, blue and yellow. The impression looks elegant.
As for the furniture, it is equipped with carved iron which makes this place perfect enough with the artistic value.
No need to walk to just look for photo spots. Even just sitting, you will definitely get cool photos.