Top 10 Tourist Attractions in Bali with Luxurious Views – Tired of the same old reviews about Bali? Here we present Bali tourist attractions with premium and luxurious views.
You don't need to go here and there in Bali just to get a good view, in these tourist spots everything is complete. These are most breathtaking Bali tourist attractions and best places to visit in Bali for first timers.
Top 10 Tourist Attractions in Bali
It is undeniable that Bali is the most popular tourist destination by tourists around the world. This is because Bali has its natural beauty and stunning beaches.
Actually there are thousands of tourist attractions in Bali, but we include the best of the best in this review list.
Visit these places and add them to your list of tourist destinations. In these places you can see the most beautiful views of the beach, swimming pools, sunsets to restaurants and spas with the best views in one package.
Tegal Wangi Beach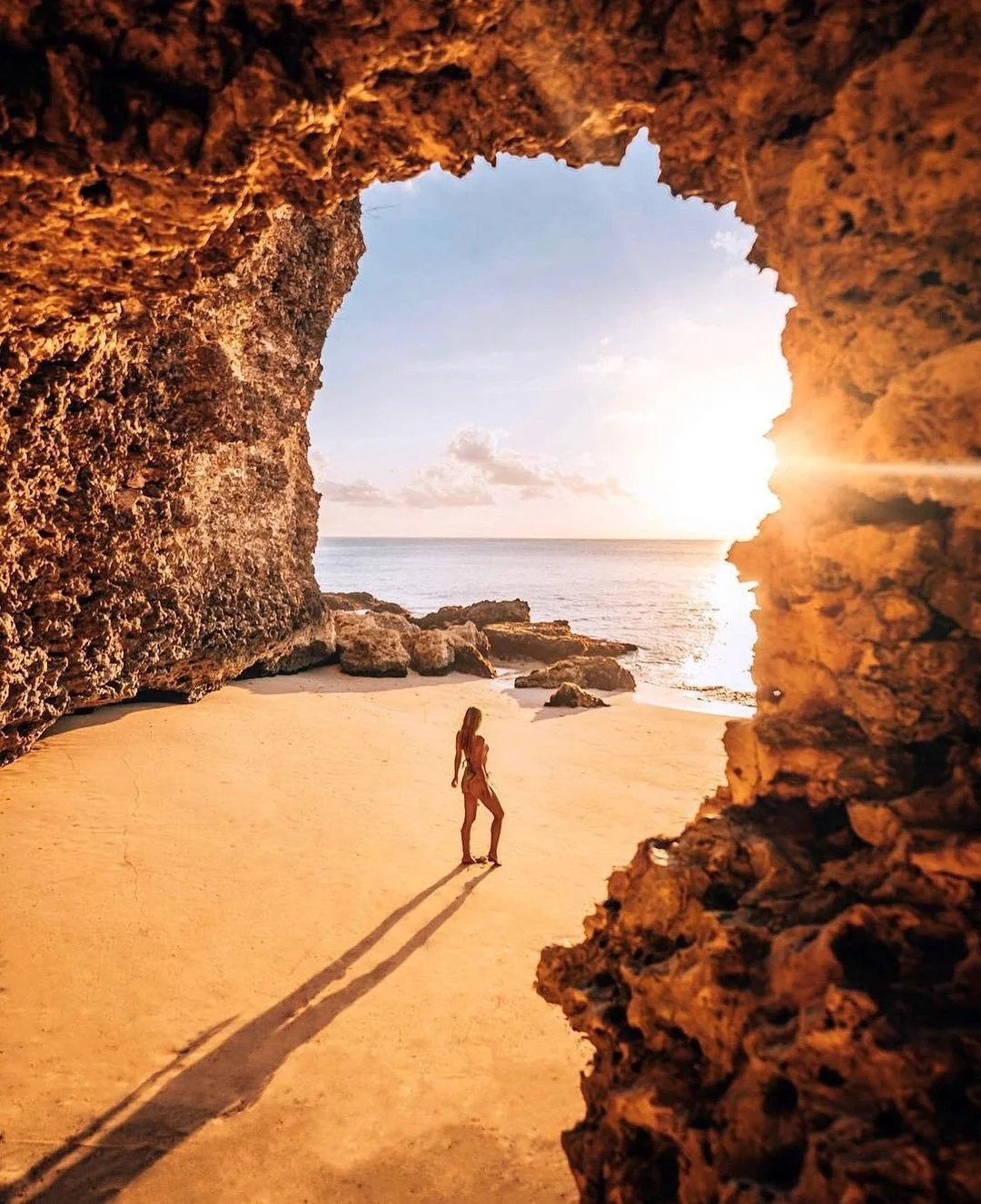 The most appropriate place to visit with your partner in Bali is Tegal Wangi Beach.
This place is very attractive and enchanting with views of the cliffs that stretch along the coastline.
One of the things that makes this unique is that there are temples and rocks that are hollow like a cave and penetrate into the ocean.
In this place you can see how amazing the sunset light.
Banyumala Waterfall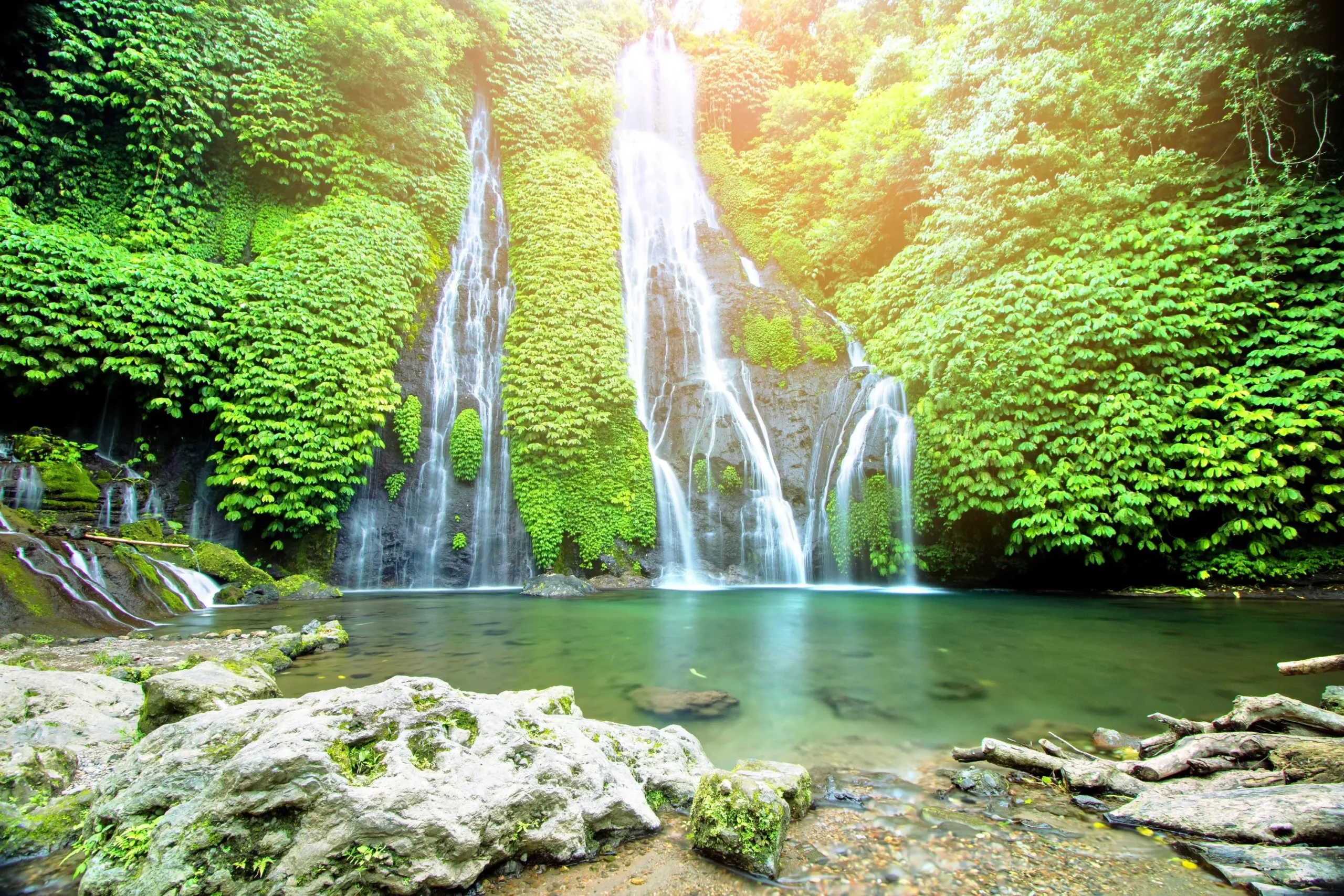 Banyumala Waterfall is a new tourist destination and is famous for its natural attractions in the form of twin waterfalls.
The location of the Banyumala Waterfall is in Sukasada, Buleleng, Bali.
The water that falls directly into the sea at the Banyumala Waterfall is very clean and clear.
You can also swim under the cool splash of the waterfall.
Sekumpul Waterfalls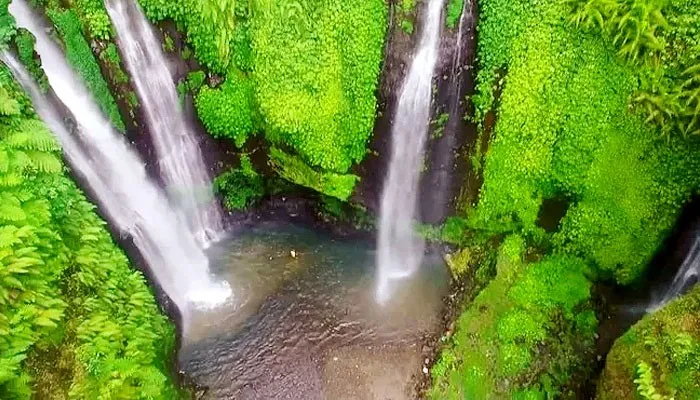 Sekumpul Waterfall is formed naturally and is a collection of many waterfalls in one place.
The location is in the village of Sekumpul, Bali. This place is still very natural and beautiful.
You will be very sorry if you don't include this Sekumpul Waterfall in your Bali tourist attractions tour list.
Sanur Beach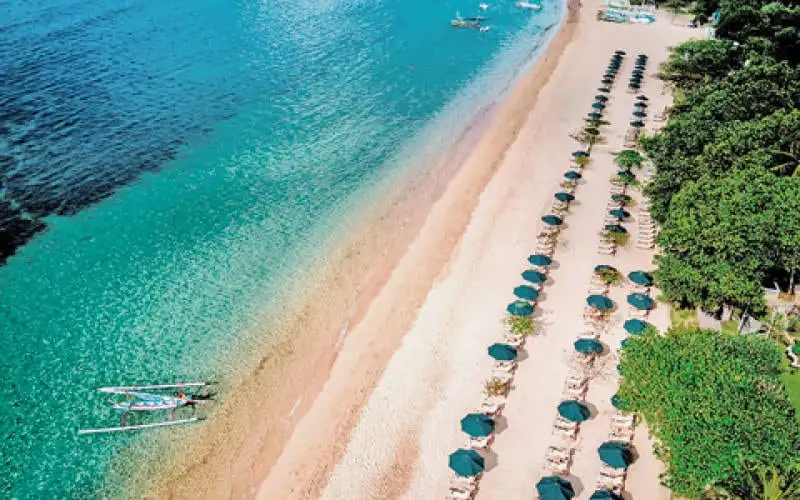 One of the beaches that makes Bali very famous is Sanur Beach. This place is the best bali tourist attractions and like a paradise for beach tourism lovers.
You can find Sanur Beach easily because it is located east of Denpasar City.
Oh yes, besides being able to see the luxurious natural scenery, you can also do activities such as swimming and snorkeling at Sanur Beach.
In addition, you are also free to sunbathe while feeling the exotic atmosphere of Sanur Beach.
Green Bowl Beach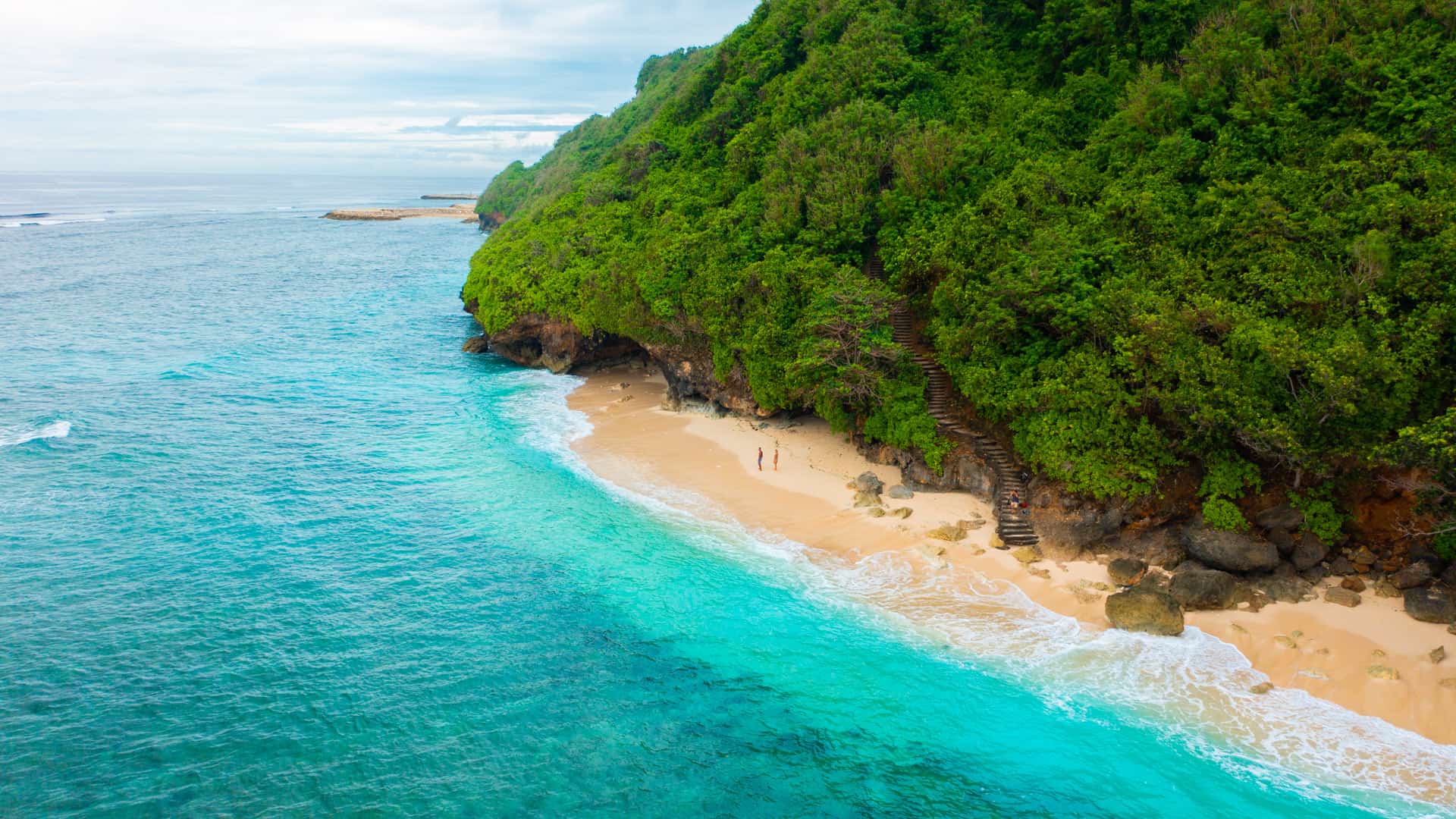 Green Bowl Beach is one of the many Bali tourist attractions with views of the blue and clear sea.
Even though it is very well known, this place is still quite quiet and is definitely the right place for those of you who don't like crowds.
On this beach there are steep cliffs. You can also challenge the ocean waves by swimming or surfing at Green Bowl Beach.
Legian Beach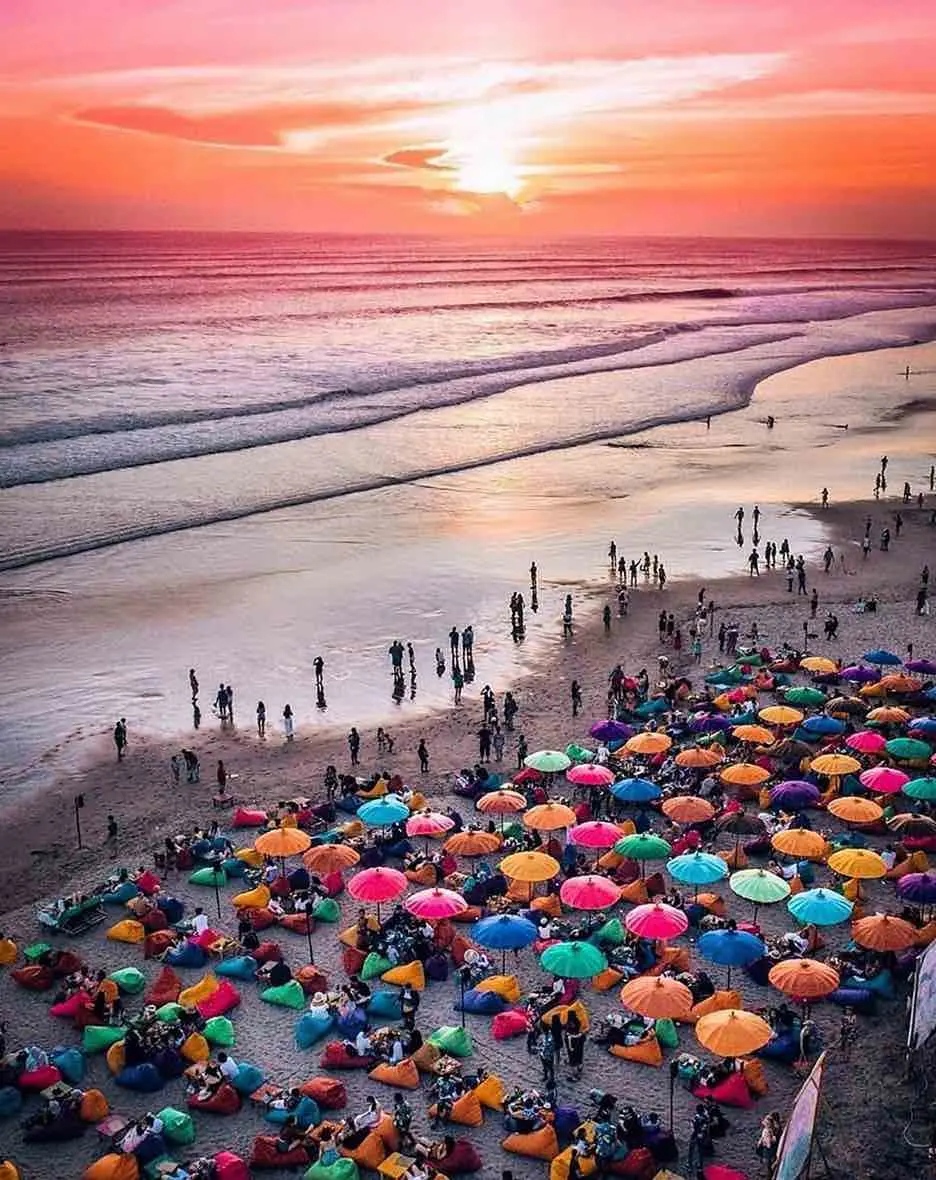 You must have often heard the word Legian. That is the name of a beach in Bali which is already very famous for its beach tourism.
Legian Beach is one of the most popular places for tourists who come with family.
Conditions on this beach are always crowded. Everyone here is competing to enjoy the challenging splash of the sea.
Here you can also enjoy the view of the sunset accompanied by the sound of the waves making the tourist experience a luxurious one.
Uluwatu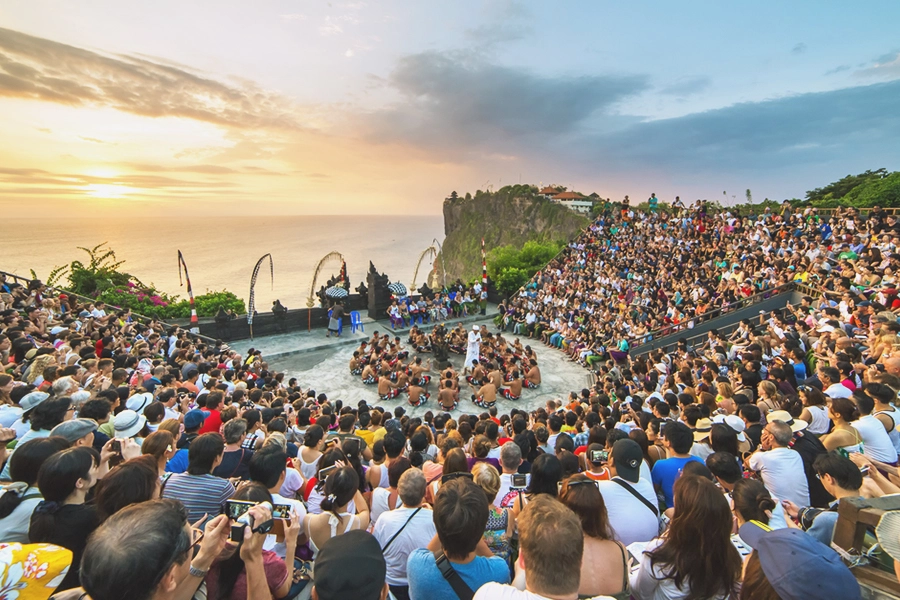 One of the tourist attractions that make tourists want to return to Bali is Uluwatu.
This place is on the edge of Uluwatu temple and here you can watch the Kecak Dance festival.
Kecak dance is one of the arts in Bali and you must watch it.
Melasti Waterfall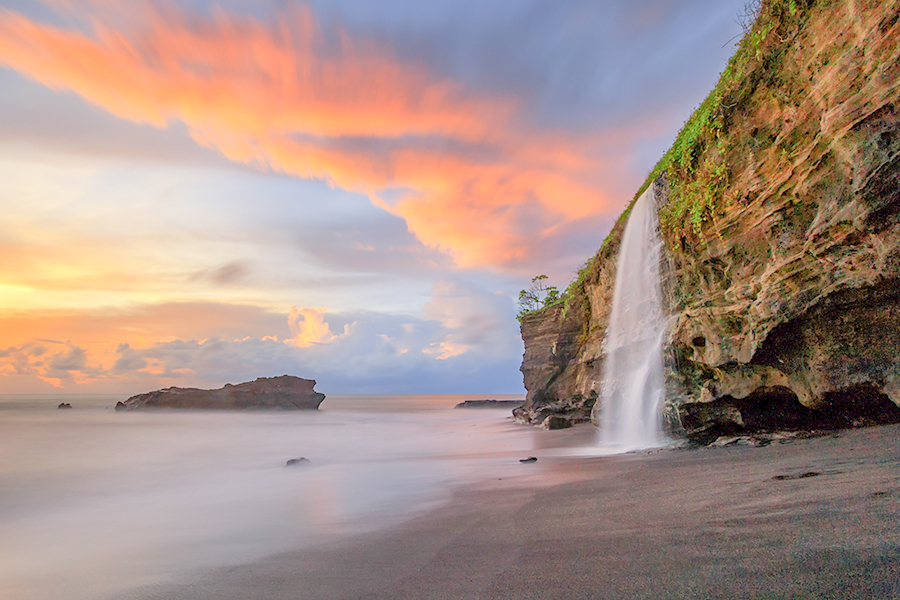 Melasti Waterfall
If you want to see the water that falls from the cliff to the beach, then Melasti Beach Waterfall is the place to be.
Just like any Bali tourist attractions, Melasti Waterfall is not to be missed. The natural scenery here is very unique.
This special Melasti Beach Waterfall is located not far from Tanah Lot.
Holy Temples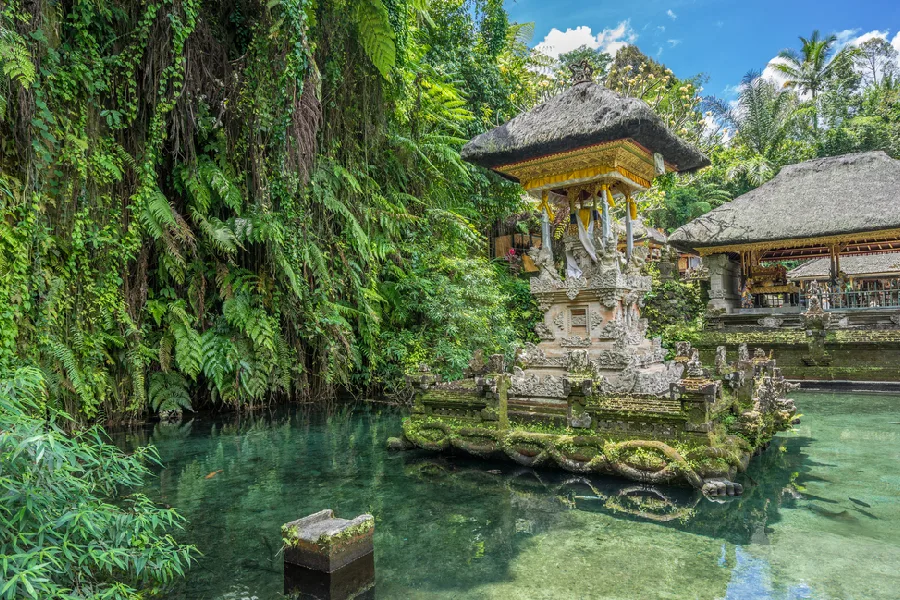 Holy Temples
In the Tanah Lot area, Bali, there are 8 temples which are sacred places for Hindus.
The temples are Pengawang Temple, Enjung Galuh Temple, Jero Kandang Temple, Pakendungan Temple, Batu Mejan Temple, Tri Antaka Monument, Batu Bolong Temple, and Upgrading Temple.
Visit the temples and don't forget to capture your moments there in photos, then flaunt them on your Instagram timeline.
Marigold Flower Garden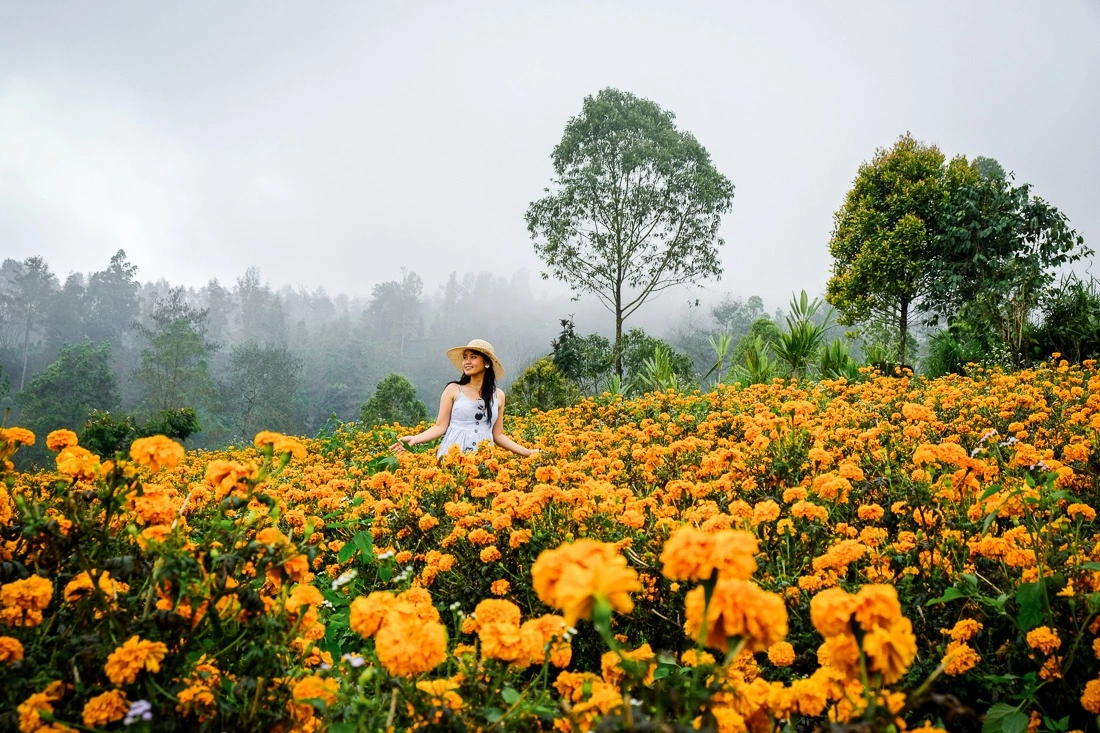 Marigold Flower Garden
It's incomplete if you don't capture your tourist moments at Marigold Flower Park when you travel in Bali.
This place is very popular and the scenery presented here is also very beautiful.
You will see flowers blooming here. The flowers are yellow and orange so they look like a golden color.
Bring your lover to a place located in Temukus Village and make this flower garden as the background for your romantic photos.
Temukus Village is the most comfortable and quiet village in East Bali.
Top 10 Bali Tourist Attractions with Premium and Luxurious Views
If you are not satisfied with the public tourist attractions in Bali, it never hurts to visit this private tourist spot.
Unfortunately, it takes a big expense to be able to stay or enjoy the view of Bali through this place.
Don't be discouraged, as the saying goes: where there's a will there's a way. So if you have a strong intention to come to these premium places, surely you will save and if the savings are enough, spend your travel budget here.
5 Stars Hotels & Resorts in Bali
Here are premium tourist spots with super special views that you need to know.
Ayana Segara Bali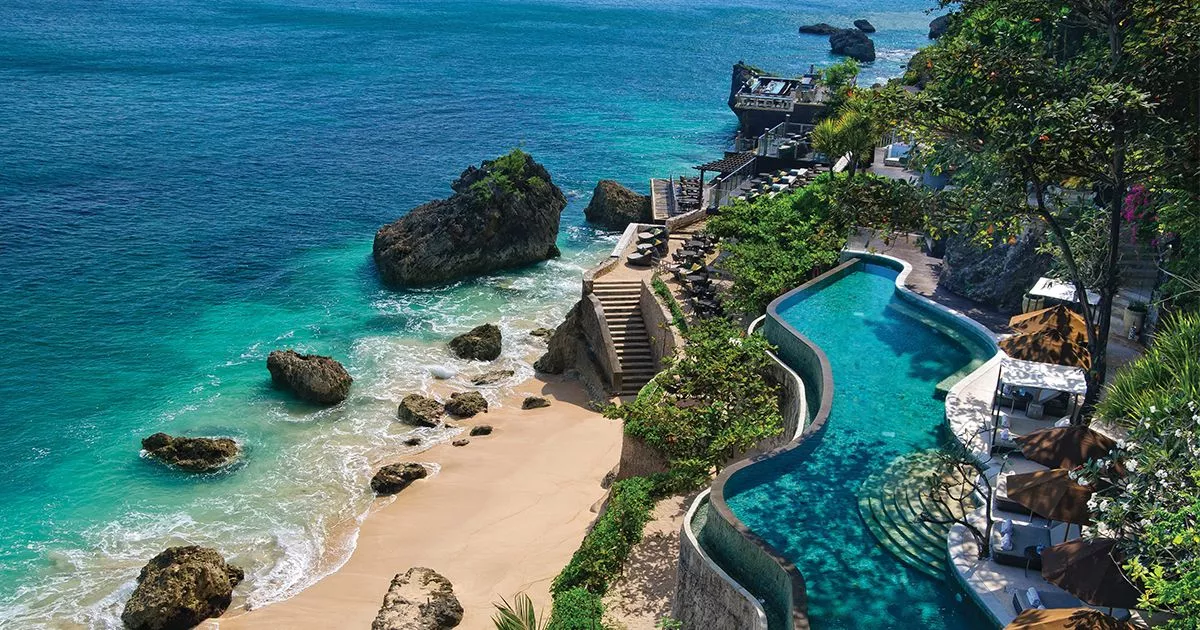 Ayana Segara is located on a clifftop area where the forest meets the ocean. This place offers a premium indoor-outdoor travel experience.
Ayana has a large open area and a large swimming pool in the center. Ayana offers guests a new experience of exercising. This place is located in Badung Regency, Bali.
Intercontinental Hotels & Resorts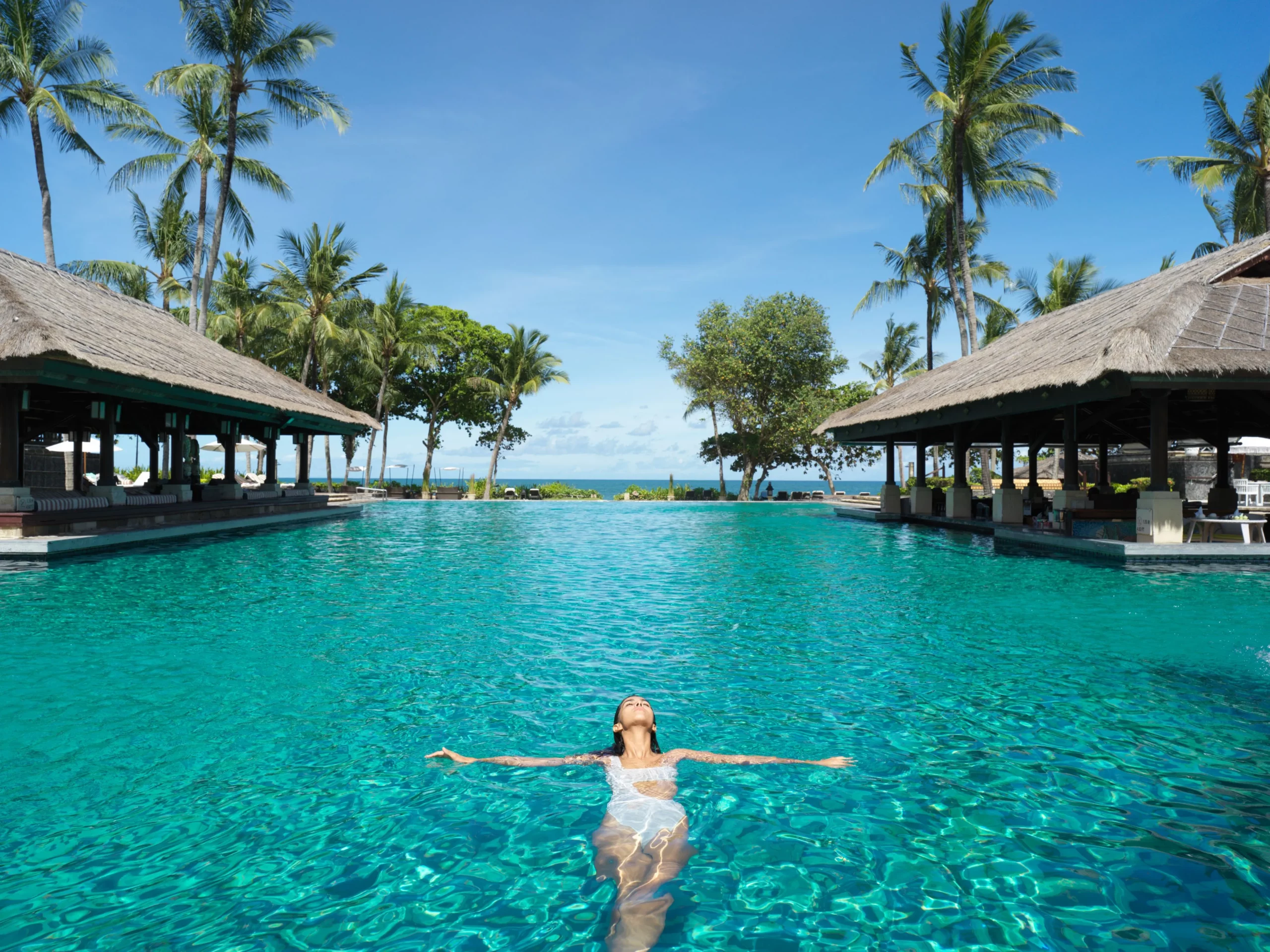 Needless to say, Intercontinental Hotels & Resorts is a luxurious getaway in Bali with beautiful tropical beach views.
You can enjoy sunset views while swimming in the large private pool. The location is located on Jalan Raya Uluwatu, Jimbaran, Bali.
Anantara Uluwatu Bali Resort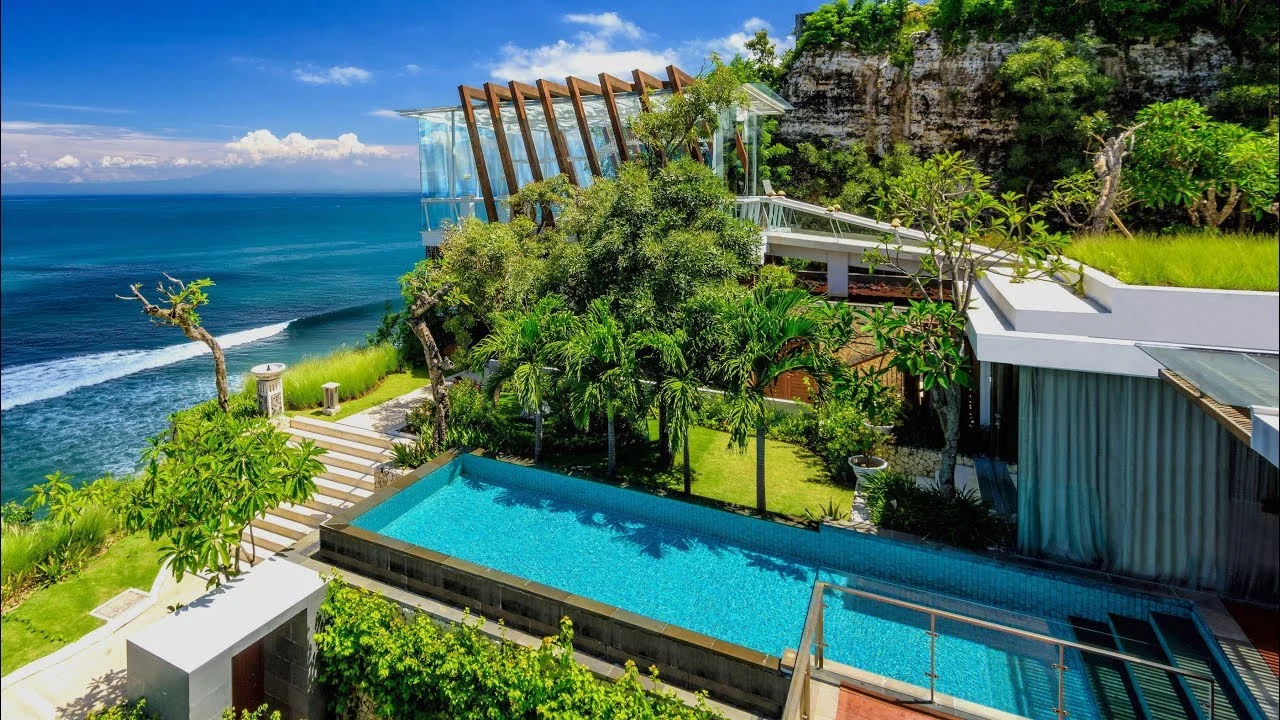 Anantara Uluwatu Bali Resort is located at the southern tip of Bali and is far from the crowds, making visitors feel comfortable.
It is also the best surfing spot in the world. The location lies on the side of a cliff overlooking the Indian Ocean.
The sea view can be seen from every angle and the sunset panorama can also be seen from here.
Viceroy Bali Luxury Resort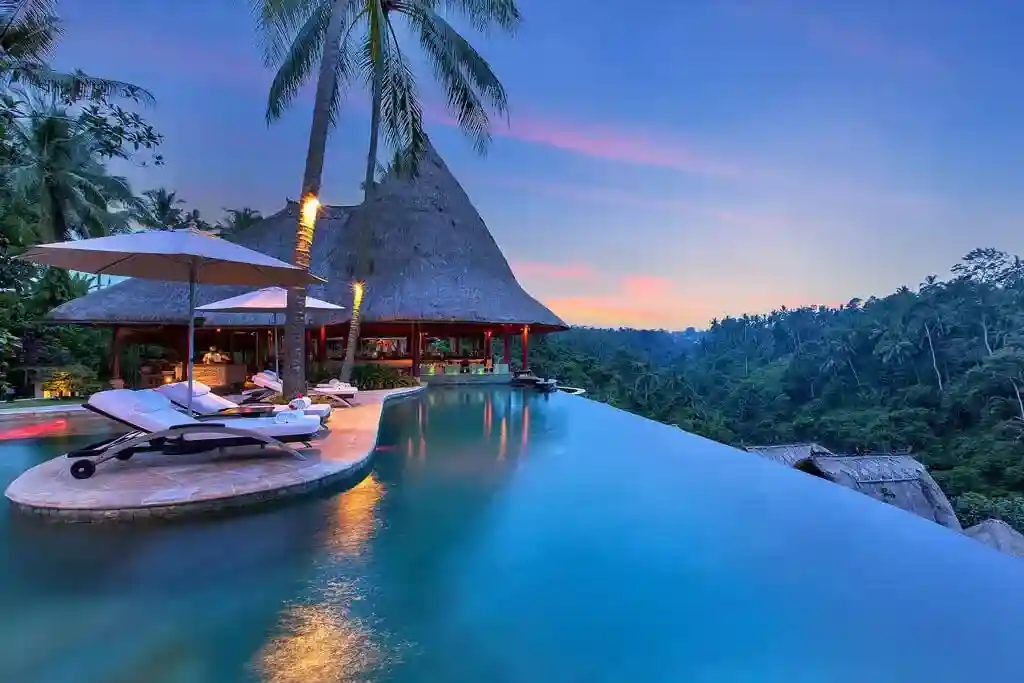 Viceroy is a little paradise for the adventurous and romantic seekers.
Viceroy Bali is the ultimate private retreat. While enjoying the natural scenery, you can rejuvenate yourself with comfortable Spa services.
The best luxury resort in Bali is located in Gianyar Regency.
Ungasan Clifftop Resort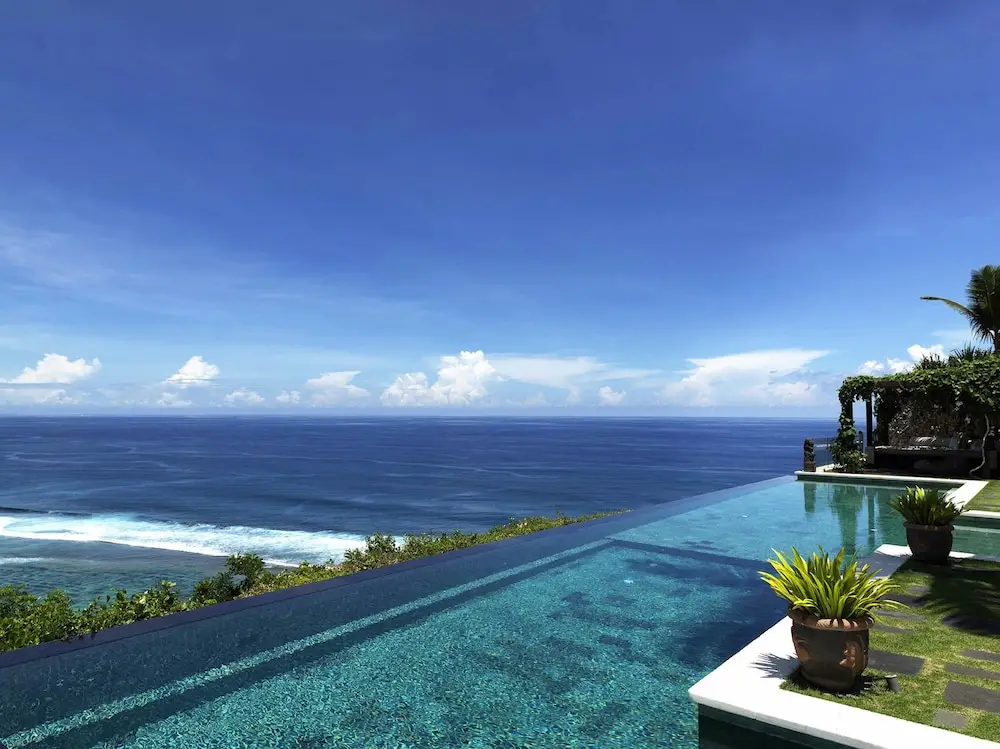 Ungasan is in Uluwatu, Bali. The views offered here are very premium and epic.
This place provides a playground for children. There is also a massage room. Guests can snorkel on the private beach.
Tantangan Villa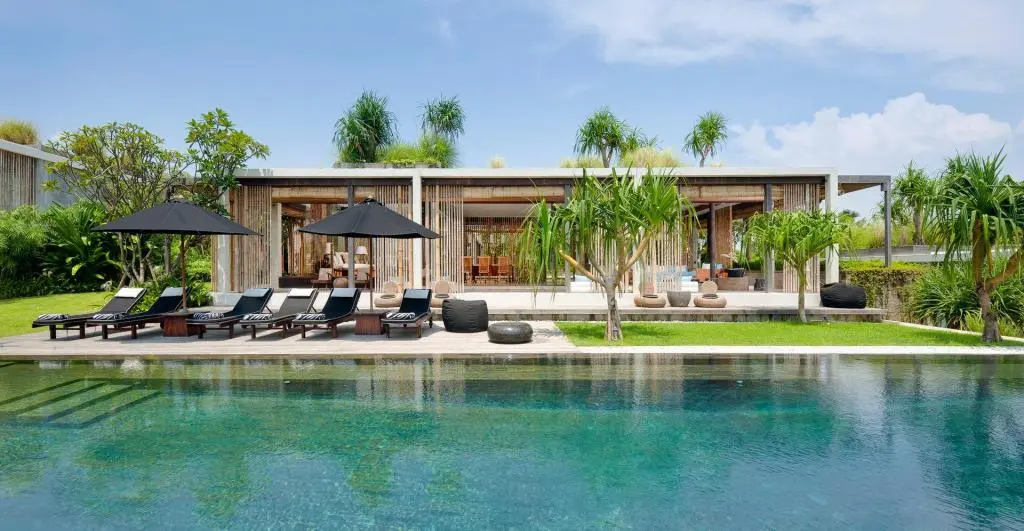 Villa Tantangan is located on Nyanyi beach which is a short distance from Ngurah Rai International Airport.
This villa has a private beach and includes a place with luxurious Balinese natural views overlooking the Indian Ocean.
From this villa visitors can also see one of the temples, local beaches and volcanoes.
Vedas Villa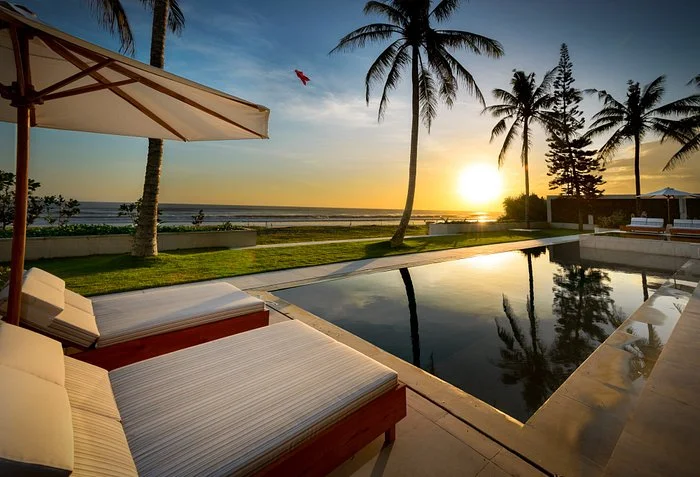 Villa Vedas is located in Tabanan, Bali. The property is very beautiful and well looked after.
The swimming pool creates a relaxed feel that feels even more delicious accompanied by the gentle breeze that comes from the sea.
Overall, this place makes visitors feel like they are living in paradise.
The Luxe Bali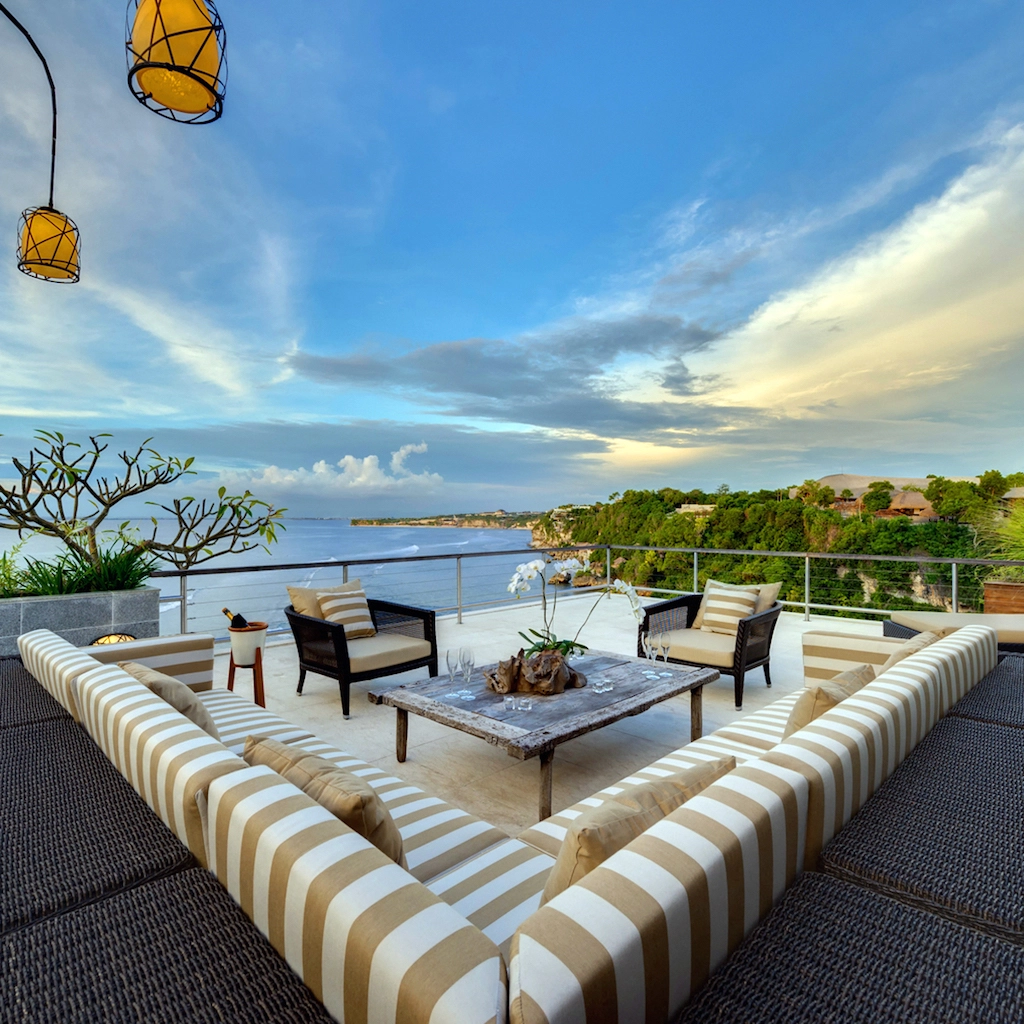 This luxurious place does not need to be doubted about its cool natural scenery. This includes the best places to stay on par with the best hotels in the world.
You can enjoy the view from the most extraordinary private beach area and see the view of Mount Agung in Bali directly from this place.
The Luxe Bali's location is in South Kuta, Bali and is located right on the edge of a cliff and overlooking Padang Padang Beach, Uluwatu.
The garden yard in this place is also spacious and lush. When night falls, you can enjoy the view of thousands of twinkling lights of Canggu and Seminyak from a distance.
Arnalaya Beach House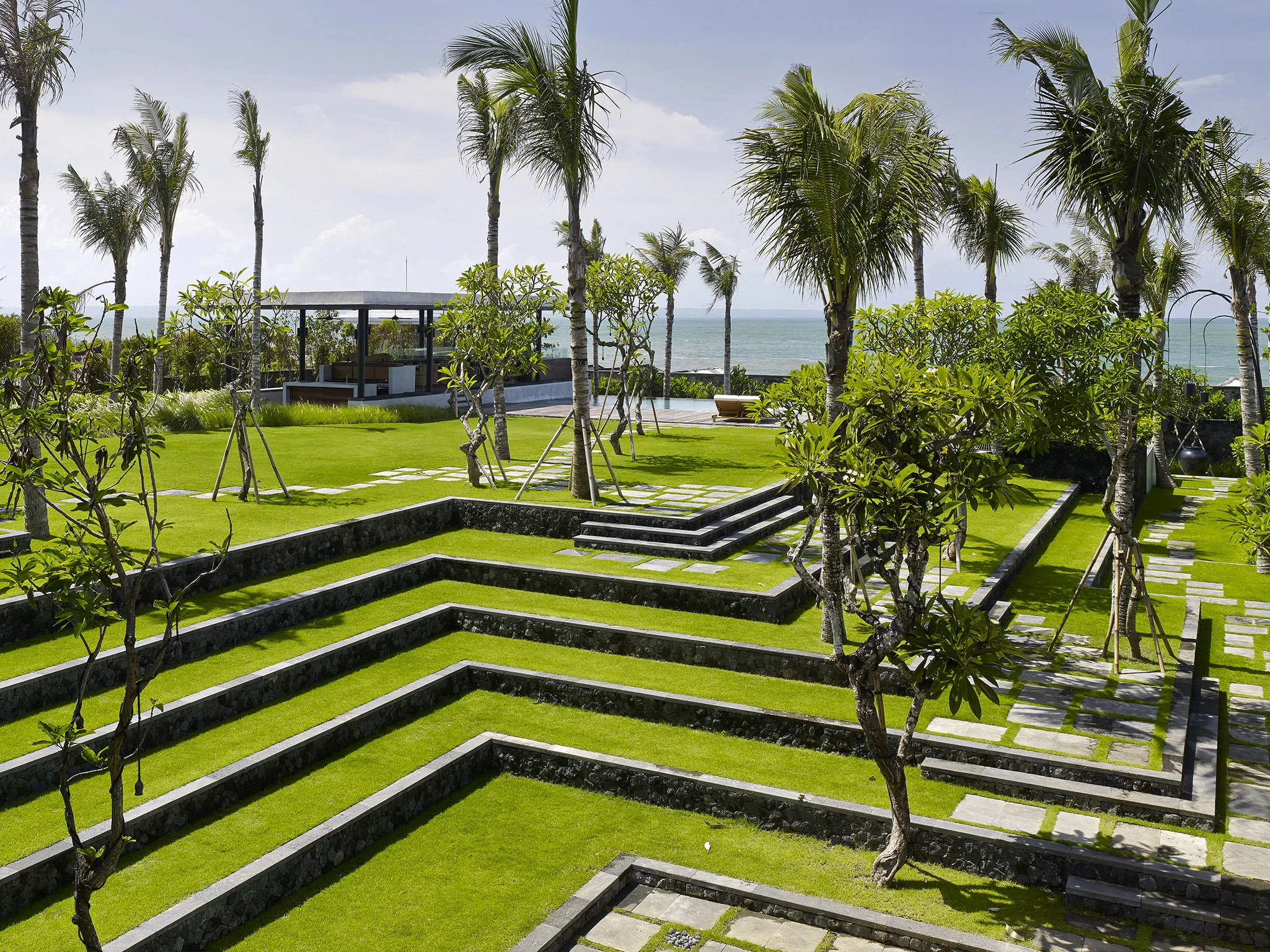 Arnalaya Beach House is a complete package for tourists who don't want to be complicated.
Its unique position and being on the beach makes those of you who stay here can pamper yourself on the beach while enjoying the sunset view.
This place is designed with a very cool and romantic nuance. The location is 20 kilometers from Ngurah Rai Airport.
Hamsa Bali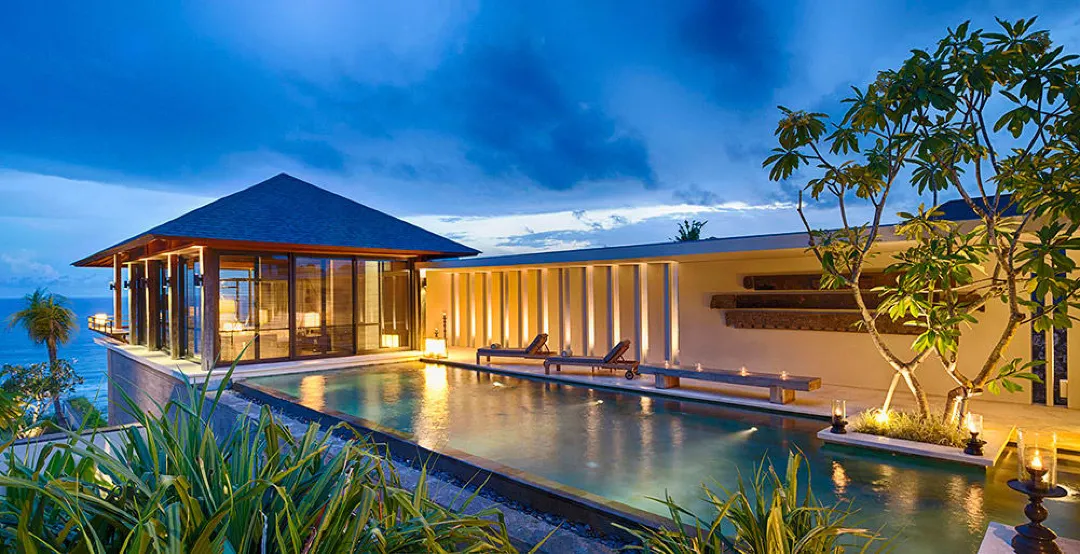 Villa Hamsa is about 20 kilometers from Ngurah Rai Airport. This is the most appropriate place for anyone who wants to stay while enjoying premium natural scenery.
There's so much you can do here. Guests staying here can enjoy the views of the surroundings.